The Green Roads for Water concept and work were presented as a case study at the 2nd session of the workshop "Barriers in NBS project design and implementation: mainstreaming and adopting NBS infrastructure" on October 5th, 2022, at 1:30 pm EAT.
Please access the workshop presentation here.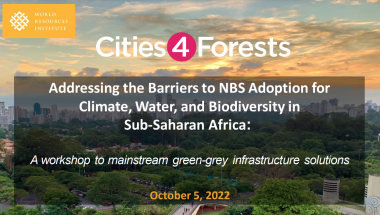 More info on the session can be found below.
The World Resources Institute, Cities4Forests, the Global Facility for Disaster Reduction and Recovery, the African Development Bank, and the Green Growth Knowledge Partnership are hosting an NBS infrastructure workshop at The Social House at 154 James Gichuru Road, Lavington, Nairobi, Kenya on Wednesday, October 5 at 1:00-5:00 pm (EAT) with the option of virtual participation. The workshop will feature leading thinkers on adaptation, climate policy experts, infrastructure funders, and NBS project developers.
By participating, attendees will learn from experts in the NBS field, participate in cross-sectoral discussions on the barriers to mainstreaming NBS in planning and infrastructure design and implementation, and learn about funding and financing strategies to scale up NBS investments. This workshop will build on existing collaborations and launch new communities of practice to address the urgent need for climate adaptation, water resilience, and biodiversity investments in Sub-Saharan Africa. For additional details on the meeting agenda, click here.
The objectives of the workshop are to:
Present the initial findings, status and trends from the NBS Project Database, project developer surveys and expert interviews.
Facilitate cross-sectorial discussions to identify barriers to mainstreaming NBS in policy and planning, infrastructure design and implementation.
Build on existing collaboration to explore new partnerships to mobilize additional financing and policy action for NBS.
Identify and prioritize strategies to develop an NBS project pipeline for future investments.
This interactive workshop will include a series of case studies, panels, group discussions and Q&A around the project cycle:
NBS project design and implementation: highlighting successes and challenges of local-level initiatives and large-scale infrastructure development.
Challenges to owning, operating, and maintaining NBS: a panel session featuring public, private, and civil society actors to explore operations and maintenance (O&M), monitoring, evaluation, and learning (MEL) and quantifying the benefits of NBS investments.
Scaling and replicating NBS investments: case studies demonstrating a replicable project model and innovative financing mechanisms for NBS and climate resilience.
The workshop will conclude with a session to identify and build on key partnerships, resources and technical assistance needed to curate an NBS project pipeline to drive future investments. For additional details on the meeting agenda, click here. 
This work is generously supported by BMZ (implemented by GIZ), the MAVA Foundation, and the Caterpillar Foundation.