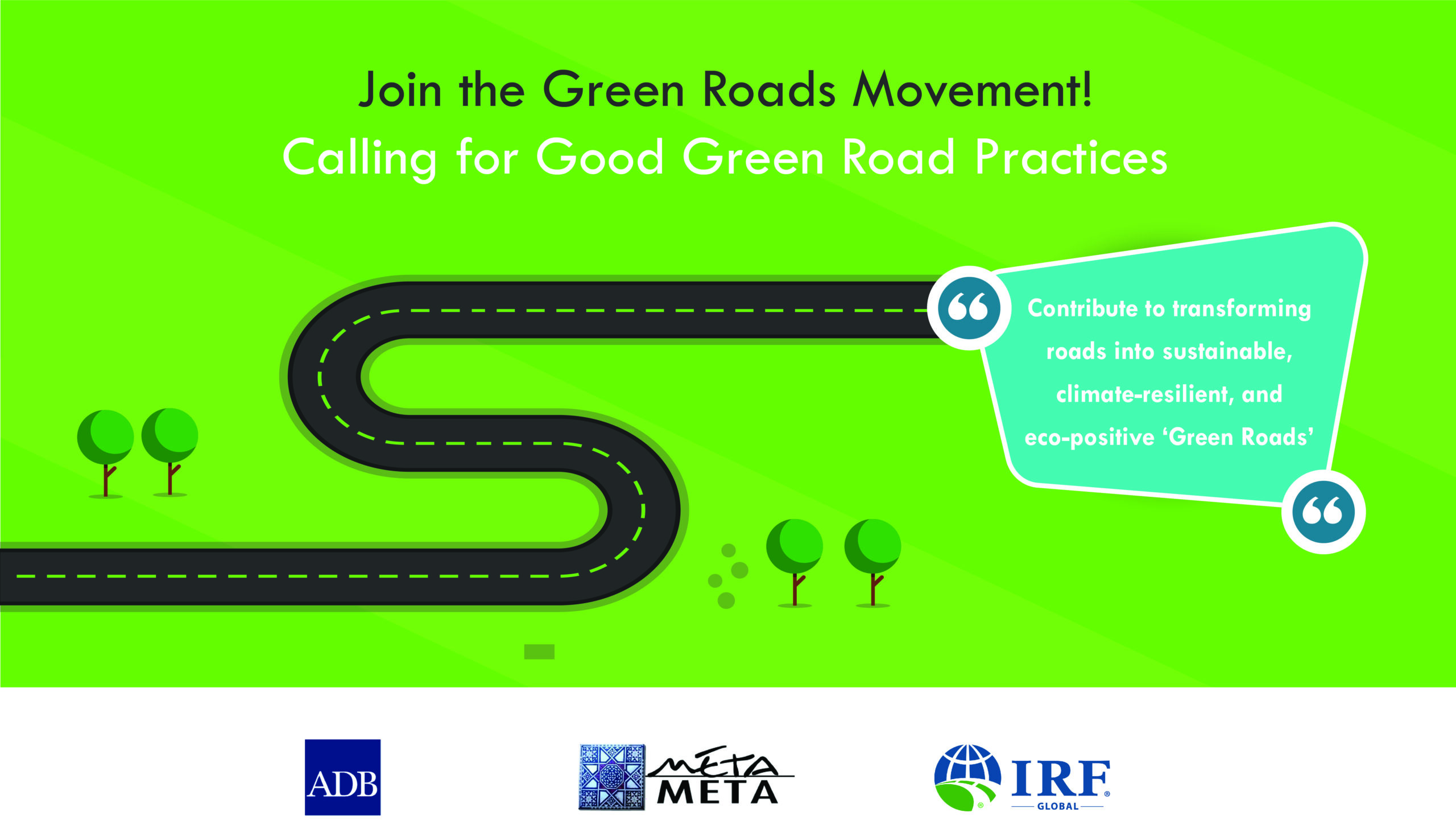 Dear Green Road Practitioners,
We would like to announce an open call for good Green Roads practices!
You are herewith invited to submit your best practices and make a valuable contribution to transforming our roads into sustainable, climate-resilient, and eco-positive 'Green Roads'.
Continue reading to learn more:
Roads play a pivotal role in our daily lives. They serve as the lifelines that connect people, goods, and services, enabling efficient and convenient transportation. Roads support economic development by providing access to markets, facilitating trade, and fostering business activities. They enhance connectivity, ensuring that communities have access to vital services, education, healthcare, and emergency response.
However, roads and the vehicles that use them also have significant environmental and social impacts, such as contributing to CO2 emissions and affecting landscapes, water resources, habitats, and micro-climates.
These challenges call for us to reimagine the way roads are planned, designed, built and maintained and to see roads not only as infrastructure for enabling mobility, but also as positive and integral elements of the surrounding landscape. The need for better transport is high. Some studies have suggested that 25 million kilometers of new roads will be constructed worldwide by 2050, most of this in developing economies[1]. This is a remarkable figure, and it is very important to ensure that roads do not only address transportation needs but also align with broader objectives such as accelerating decarbonization, strengthening climate and disaster resilience, improving water management, enhancing livelihoods and fostering a healthier environment and richer biodiversity.
MetaMeta Research and the International Road Federation have been engaged by the Asian Development Bank to develop a Green Roads Toolkit, which will be used for planning and preparing future road project investments. The Green Roads toolkit will go beyond the current conventional approaches, where connectivity, safety, and affordability are the main dimensions to incorporate green road elements and ensure roads are aligned with different conventions, such as the Paris Agreement on Climate Change, Biodiversity Convention, and the Sustainable Development Goals (SDGs) among others. This toolkit will include a menu of practical options for green road development that target one or more of the nine identified dimensions of Green Roads, as illustrated below and comprising roads that: (i) support decarbonization, (ii) contribute to climate resilience, (iii) support water and land management, (iv) reduce pollution, (v) improve the quality of life, (vi) preserve biodiversity, (vii)  improve disaster preparedness, and (viii) apply sustainable sourcing of materials and construction practices, and (ix) foster inclusive growth. We invite you to contribute examples and learnings on such practical options by submitting Green Roads practices! While our primary focus is on Asia and the Pacific, we welcome relevant examples from elsewhere too that may be useful for the Region. Your contribution is very valuable since we are looking for good practices that are rooted in the real-world and have been successfully implemented.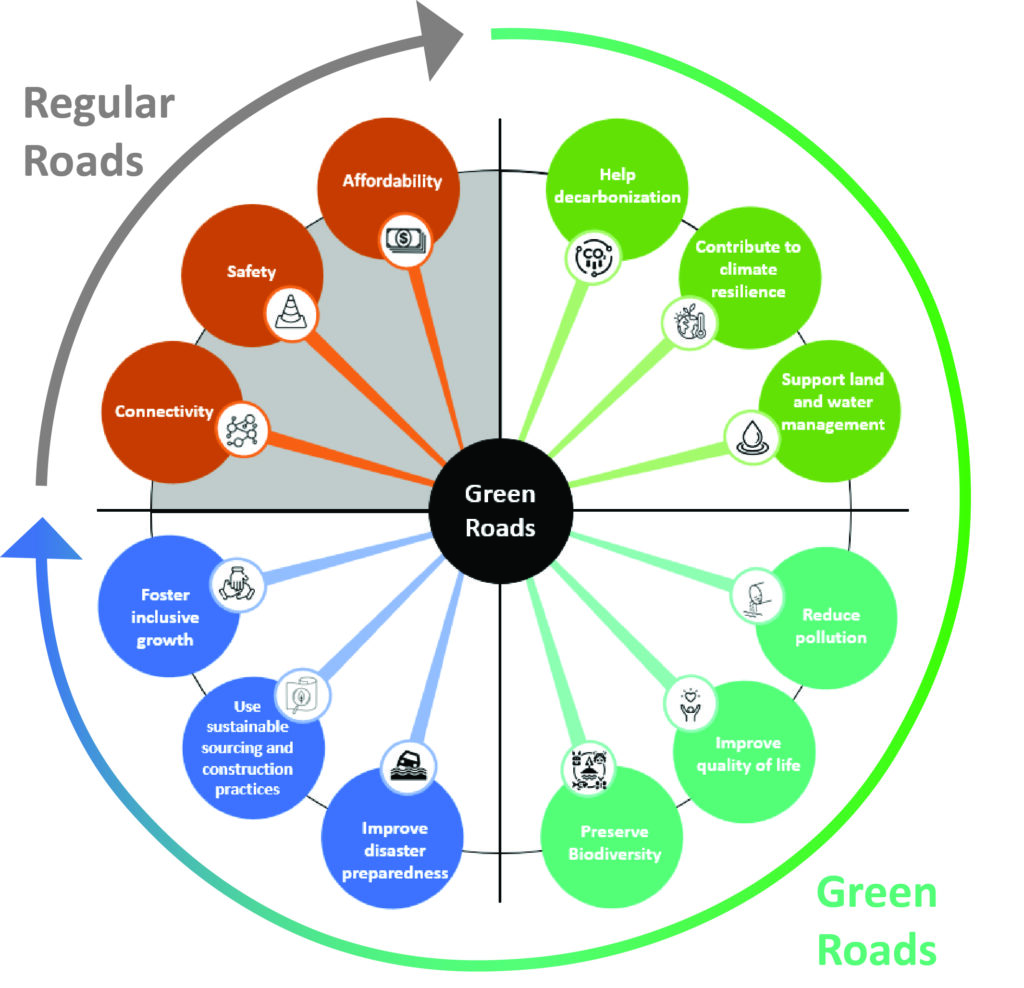 How to participate?
You can participate by submitting the following information (as much as you have):
Description of what the practice is and how it is applied.
Area/Region: Where is the practice applied or could be applied?
Dimensions: Which of the dimensions of Green Roads does the practice address or support?
Enabling environment: What arrangements were used to make the practice work/what is needed prior to having the practice in place?
Costs/Benefits: What are the costs and benefits from the practice, both financial and non-financial, for different stakeholders?
Remarks/Further reading: Do you have any further remarks/any references?
Your contact details: So, we can get in touch with you and discuss your submission further including the possible inclusion of your Green Roads practice in our toolkit.
Below you can find some inspiring examples of how to turn around the negative impacts of roads on the environment and the communities:
You can submit your Green Roads practice by completing the form with your answers to the questions above. The form can be found here. You can provide as much detail as you wish, but we encourage you to be clear and concise. Please feel free to add supporting documents such as photos, data, or case studies to enhance the understanding of your good practice. We will review your submission and get back to you soon. We will also inform you if your good practice is selected for inclusion in the toolkit.
Please note that the deadline for submission is the 15th of September, 2023. Besides contributing to this important body of knowledge, there will be a small and appropriate prize for the winners. The top three practices will be selected as winners, chosen based on rigorous evaluation criteria, including impact, applicability, cost efficiency, and appropriateness for the Asian context. Each of the three winners will receive a signed copy of the newly published book "Crossings: How Road Ecology Is Shaping the Future of Our Planet" by Ben Goldfarb, an award-winning environmental author. This book explores the global ecological impacts of roads and how to mitigate them. In addition to the book, the winners will also receive support from our team in documentation, advice, and presentations, as needed.
We are excited to receive your submission and celebrate your outstanding contributions to green roads.
Please find here a flyer for the call.
References:
[1] Laurance, W. F., Clements, G. R., Sloan, S., O'connell, C. S., Mueller, N. D., Goosem, M., … & Arrea, I. B. (2014). A global strategy for road building. Nature, 513(7517), 229-232.

---
Last modified: July 24, 2023